Target Solutions
From MEFD
Target Solutions is the platform Skagit County EMS has chosen for managing the training records for EMTs. The online system provides modules and tests to cover OTEP requirements, allows for dissemination of new information, and acts as document storage for things like BLS Protocols.
Access
To login visit https://targetsolutions.com/skagitems and enter your username and password.  Depending on your affiliation you may have several separate accounts (one per department, etc).  Be sure that you see the Skagit County logo.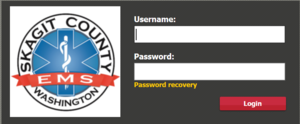 Currently only EMTs are given access to the system. If you are an EMT and don't have an account please contact your Training Officer.
If you are locked out, can't remember your login info, etc. you can either contact your Training Officer to reset your password or contact Target Solutions support at https://www.targetsolutions.com/support/.
Unfinished Assignments/Modules
From the left-hand menu select My Assignments. You'll see a list of assignments that are not yet complete. Also listed are due dates. All assignments must be completed by the due date and modules must be completed prior to the skills portion of each OTEP session.
Self-Assigning Modules
Generally speaking, the required modules will be assigned to you at the beginning of each year and as additional modules are chosen for the County.  You may, however, assign yourself a module whenever you like. This is most common if you have become an EMT after the annual modules have been assigned.
From the left-hand menu select Self-Assign. Then search or browse for the module you want to complete. It can be a new module or one you have previously completed.
BLS Protocols
Skagit County EMS no longer posts their protocols on the County website. Instead login to TargetSolutions and select File Center from the left-hand menu. From their navigate to EMS Protocols - BLS Protocols. The protocols and their updates are spread out across multiple folders and documents within this directory.  There is not currently a single document holding a complete set of current BLS protocols.