FoxFury Nomad Tripod Lights
From MEFD
These portable scene lights are carried on most of the apparatus. We frequently use them on MVAs, medical calls and fires.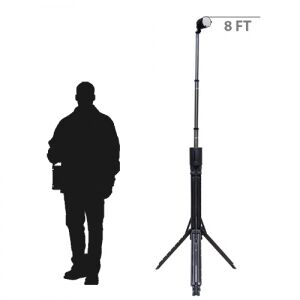 Maintenance and Inspection
Setup the light (see video: https://www.youtube.com/watch?v=Wde1JteBUzg).
Extend the telescoping section through its full range (8 ft).
Inspect for damage, wear and tear.
Clean as needed.
Power on and test all three brightness levels.
Inspect and attach diffuser.
Charge if the base light is not green.
When powered on the indicator lights at the base of the tube tell you the battery status.
Green: battery is charged.
Orange: partially charged.
Red: Nearly depleted.
Charging
Plug the labeled charger into the port at the bottom edge of the light. The led indicator at the base of the light will flash green as it charges. When the charge is complete it will glow steady green.
Note: These lights can be run while they are plugged in if needed.
Specs
High power: 4000 lumens, 3 hour runtime
Medium power: 1300 lumens, 9 hour runtime
Low power: 500 lumens, 24 hour runtime
Recharges in 5 hours
Waterproof
Intro Video
User's Manual